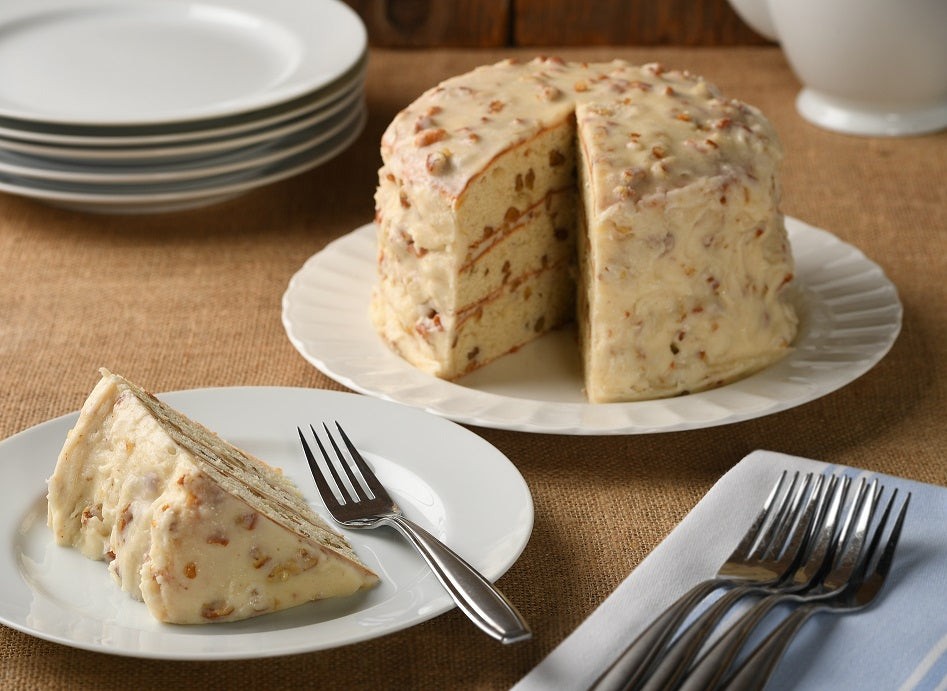 TOASTED PECAN CAKE
Ingredients:
Cake:
1 1/4 cups butter, divided
2 teaspoons baking powder
3 cups flour
1/2 teaspoon salt
2 cups sugar
4 eggs
1 cup milk
2 teaspoons vanilla extract

Icing:
1 stick butter, softened
1 box powdered sugar
1 teaspoon vanilla extract
4-6 Tablespoons milk
Remaining nuts
Directions:
Cake:
Toast pecans in 1/4 cup butter in 300 degree oven about 20 minutes, stirring frequently and being careful to not overcook. Oven temperatures vary; be careful as an overcooked pecan loses its flavor. Sift baking powder, flour and salt; cream the 1 remaining cup of softened butter, gradually adding sugar. Blend eggs in one at a time. Add dry ingredients alternately with milk, beginning and ending with dry ingredients and mix well. Stir in vanilla and 1 1/3 cups toasted pecans. Bake in 3 (9-inch) greased and floured layer-cake pans at 350 degrees 25 to 30 minutes, or until light brown.
Icing:
Combine softened butter, approximately 1/2 sugar and vanilla, mixing well. Add the other half of sugar, adding as little milk as necessary to reach a nice spreading consistency. Ice layers, top and sides; sprinkle with remaining nuts.
From The Kitchen Of:
Lucy Clark