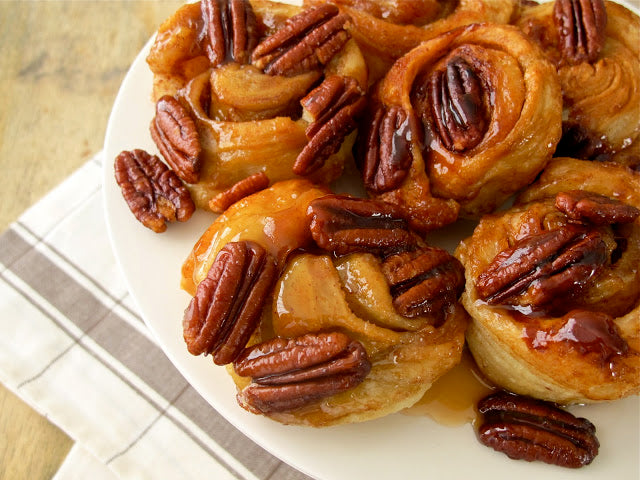 PECAN CINNAMON ROLLS
Ingredients for Cinnamon Rolls:
2 sheets (1 pkg) Puff Pastry
2 Tbsp butter
1/4 cup sugar
1/2 cup brown sugar
2 Tablespoons cinnamon
Ingredients for Pecan Topping:
Items:
Muffin pan, electric mixer and bowl
Directions:
Preheat the oven to 400 degrees (F).
Defrost puff pastry, but keep cold.
Create the gooey pecan topping by combining the 12 tablespoons of butter, salt, and ½ cup of brown sugar. Mix in an electric mixer until creamy. Put a spoonful of topping mixture in each cup. Place four pecans halves in each cup and smash down to cover the bottom of each cup evenly.
Lightly flour surface and unfold puff pastry sheets. Lightly flour puff pastry. Melt the 2 tablespoons of butter and brush onto one side of the pastry. Sprinkle the same side evenly with sugar, brown sugar and cinnamon. Roll up the puff pastries and slice each roll into six pieces. Place each piece standing up (like a cinnamon roll) on top of the pecans and topping mixture.
Bake for 25-30 minutes or until golden brown. Place parchment paper in a baking sheet. After cinnamon rolls have cooled for a few minutes, flip rolls on the parchment paper. (Do not let them cool completely in the muffin pan.) Scoop out filling with a spoon, if necessary. Be careful; the topping is very hot. The rolls and sweet and gooey, perfect for a special breakfast!
Image and recipe property of Jenny Steffens