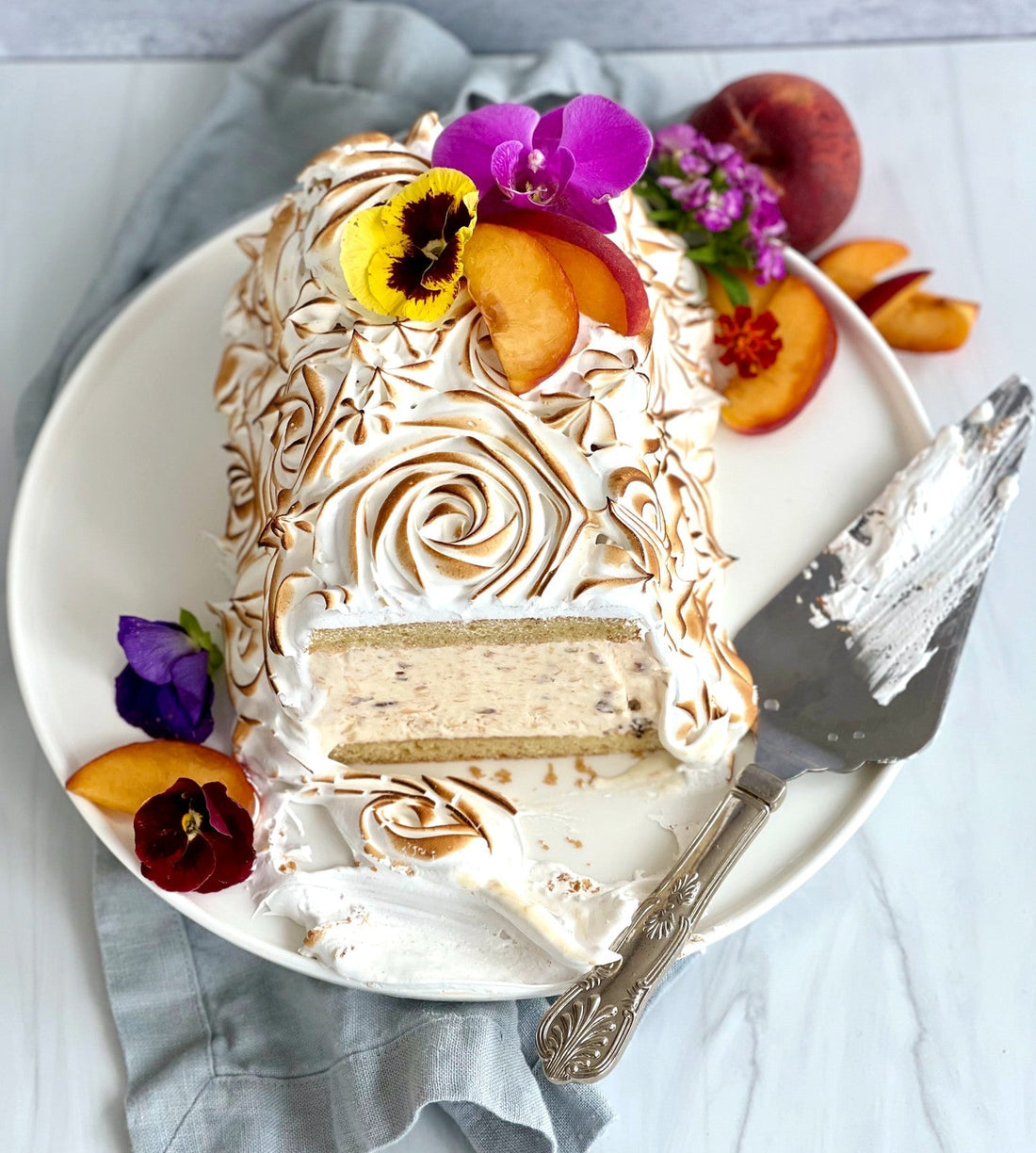 Peach Baked Alaska
Do ya'll know Nadine Ali? If so, then you know.... If not, then you need to! Nadine Ali believes that baking for someone is an act of love, and we were honored to have her create a signature dessert that we are proud to share with you.
To quote Nadine Ali, "Life is too short, so bake, eat and enjoy that dessert!"
Equipment:
Stand or hand held mixer for meringue

Food Processor or blender for peach puree

1 lb loaf pan for freezing ice cream

Piping bag

Cling wrap

2D or 1M piping tip

Blow torch
Ingredients:
Favorite vanilla cake recipe made in a sheet pan or store bought pound cake

Peach Ice cream (recipe below)

4 -5 Pearson Farm peaches to make about 1 cup peach puree

2 cups heavy whipping cream

14 oz (396 g) condensed milk

1 tsp vanilla extract

1/2 cup chopped pecans

Swiss Meringue (recipe below)

200 g egg whites

400 g sugar

1/2 tsp cream of tartar

1/2 tsp vanilla extract
Method:
Peach Ice cream
Line your loaf pan with cling wrap with some hanging off the sides and set aside
Peel and chop peaches and puree in food processor or blender
Whip cream till peaks form
Add condensed milk and vanilla extract and mix
Add the peach puree and mix
Pour into prepared pan leaving a little space on top for cake later and freeze for at least 6 hours. Overnight is best.
Once ice cream is frozen, take out of pan
Line pan with cling wrap again
Put one layer of cake in the bottom, cut to size
Add one more layer of cake on top
Combine the egg whites, sugar, and cream of tartar in your mixer bowl
Put your bowl over the hot water and mix till sugar is dissolved and mixture is hot to touch (don't cook the eggs!)
Then with a whisk attachment, whisk till nice and stiff and fluffy
Add meringue to a piping bag fitted with a 2 D tip. If you want to skip this step, you can use a spatula to spoon meringue all over and use a palette knife to make pretty swirls.
Take ice cream and cake out of pan and put on your serving dish.
Pipe meringue roses all over (the ice cream and cake should be frozen hard at this point)
Torch with blow torch till golden brown and serve
Enjoy!