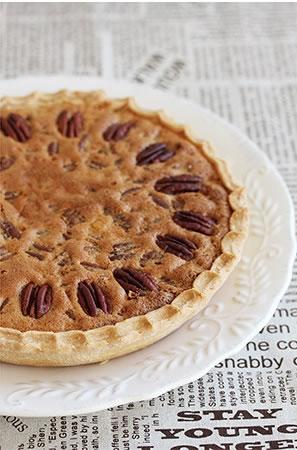 Orange Chocolate Pecan Pie
This unique combination of flavors is absolutely delicious!
Ingredients for an 8-inch-pie dish


ready-made pie dough or pre-made 9 inch pie shell
2 eggs
100g (1/2 cup) brown sugar
50g (1/4 cup) caster sugar
50g (1/4 cup) melted butter
30ml (1 oz) fresh orange juice
30g (1/4 cup) flour
pinch of salt
100g (1/2 cup) chocolate chips
50g (1/4 cup) candied orange peel, chopped
100g (1 cup) Georgia pecans
Instructions
Preheat the oven to 190°C (375 degrees F)
If using ready made pie dough, roll the dough to a 4-5 mm (1/4 inch) thickness and line it in a pie plate. Chill until needed.
Beat eggs, both kinds of sugar, melted butter, orange juice, flour and salt together.
Choose 16 whole pecan nuts for decoration and set them aside.
Roughly chop the rest and add to the egg mixture.
Sprinkle the chopped candied orange peel and chocolate chips evenly over the unbaked pie crust.
Carefully pour over the egg mixture and decorate the top with whole nuts.
Bake the pie for 10 minutes on 190°C(375 degrees F), then reduce the oven to 175°C (350 degrees F) and bake for another 30-35 minute. The edges should be golden brown and the center should be set.
Cool completely before cutting, preferably overnight.
This Recipe is Courtesty of Sunshine Kitchen