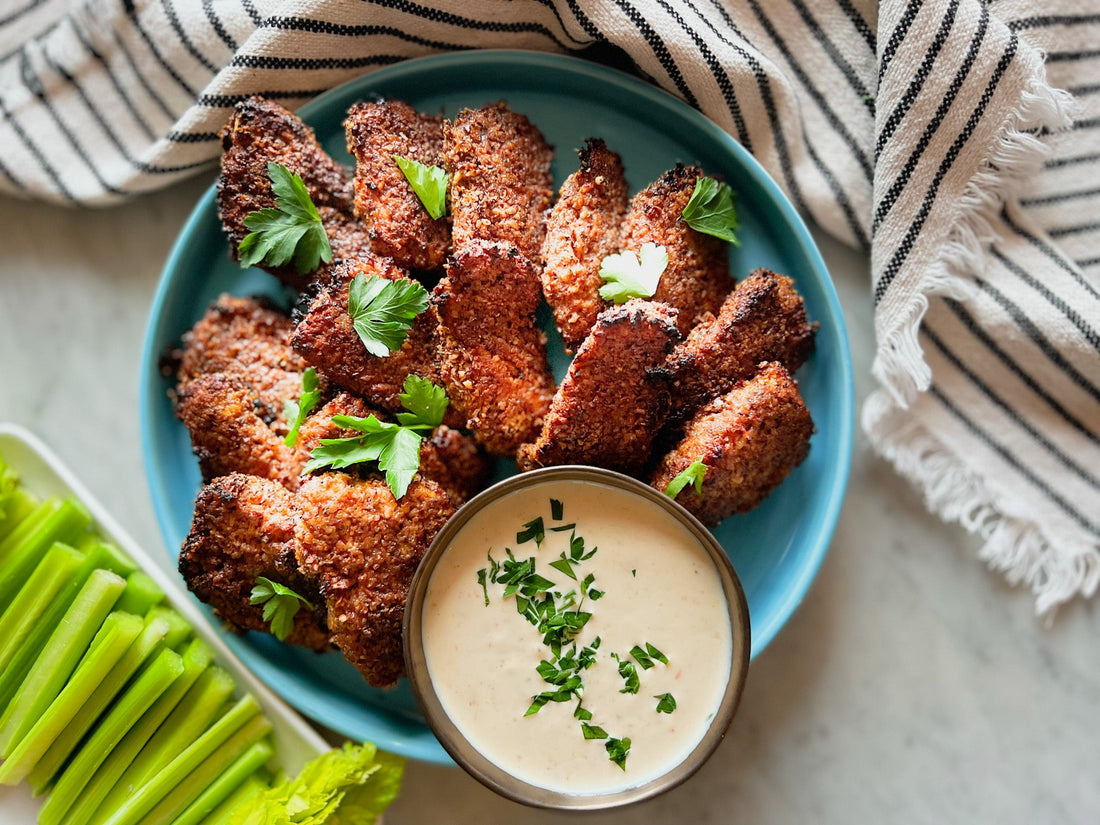 Gluten-Free Chicken Tenders with Peach Pepper Dipping Sauce
When we needed a special recipe for our brand new Pearson Farm Pecan Meal, we knew to look no further than Dina and Bruce at The Perks of Being Us! Their recipes are so creative and always delicious. This Gluten-Free Chicken Tenders recipe is fantastic and just because they love it so much, they created a special dipping sauce using our homemade Peach Pepper Jelly to go along with the tenders. You do not want to miss this one!
INGREDIENTS FOR THE CHICKEN TENDERS MARINADE:
2 chicken breasts, trimmed and sliced into strips
2 cups of buttermilk
1 tablespoon garlic powder
1 tablespoon course pepper
1 tablespoon hot sauce (we use Sriracha)
INGREDIENTS FOR THE GLUTEN-FREE BREADING
2 cups of freshly grated parmesan
2 cups Pearson Farm Pecan Meal
1 tablespoon course peppers
1 tablespoon granulated garlic (garlic powder)
1 tablespoon chili lime seasoning
INGREDIENTS FOR THE PEACH PEPPER DIPPING SAUCE:
1/2 cup mayonnaise
1/2 cup sour cream
1 1/2 tablespoon Pearson Farm Peach Pepper Jelly
2 tablespoons Dijon mustard
2 tablespoons dill pickle juice
Pinch of salt
Pinch of pepper
INSTRUCTIONS FOR MARINATING THE CHICKEN:
Start by cutting the chicken breasts into strips, and then cutting those in half to form smaller tenders. Add them to a heavy duty plastic storage bag. Pour buttermilk over the chicken, and add garlic powder, pepper and hot sauce. Let marinade for a least 2 hours, but preferably all day, or overnight.
INSTRUCTIONS FOR MAKING THE DIPPING SAUCE:
Add mayonnaise and sour cream to a bowl. Add in the Pearson Farm Peach Pepper Jelly, Dijon, pickle juice, and spices. Stir, and taste. Adjust spices, or add in more jelly, or juice.
INSTRUCTIONS FOR PREPARING AND BAKING THE CHICKEN TENDERS:
Pre-heat convection oven or air-fryer to 400 degrees. Prepare sheet pan by adding 2 layers of parchment. Add a grid to another pan and pull the chicken tenders out of the marinade to drain off excess buttermilk. Lightly salt the chicken.
Using the wet hand dry hand method, dip the chicken pieces into the breading mixture. Use on hand (the wet hand) to grab the chicken and place in pecan meal cheese mixture. Use the other hand to cover with the breading and press in (the dry hand). Be sure to press the pecan mixture into the chicken, and turn over and do this again. Place pieces of coated chicken on the parchment lined sheet pan in rows. Do not over crowd the pan.
Drizzle a little bit of oil over each tender. Place tenders in oven for 10 minutes. Remove pan from oven and turn over the tenders. Bake for another 10 minutes, until golden brown. Let rest for a few minutes, then place on a serving plate. Serve with dipping sauce and celery sticks.
Serves 4
For more recipes like this one, visit The Perks of Being Us