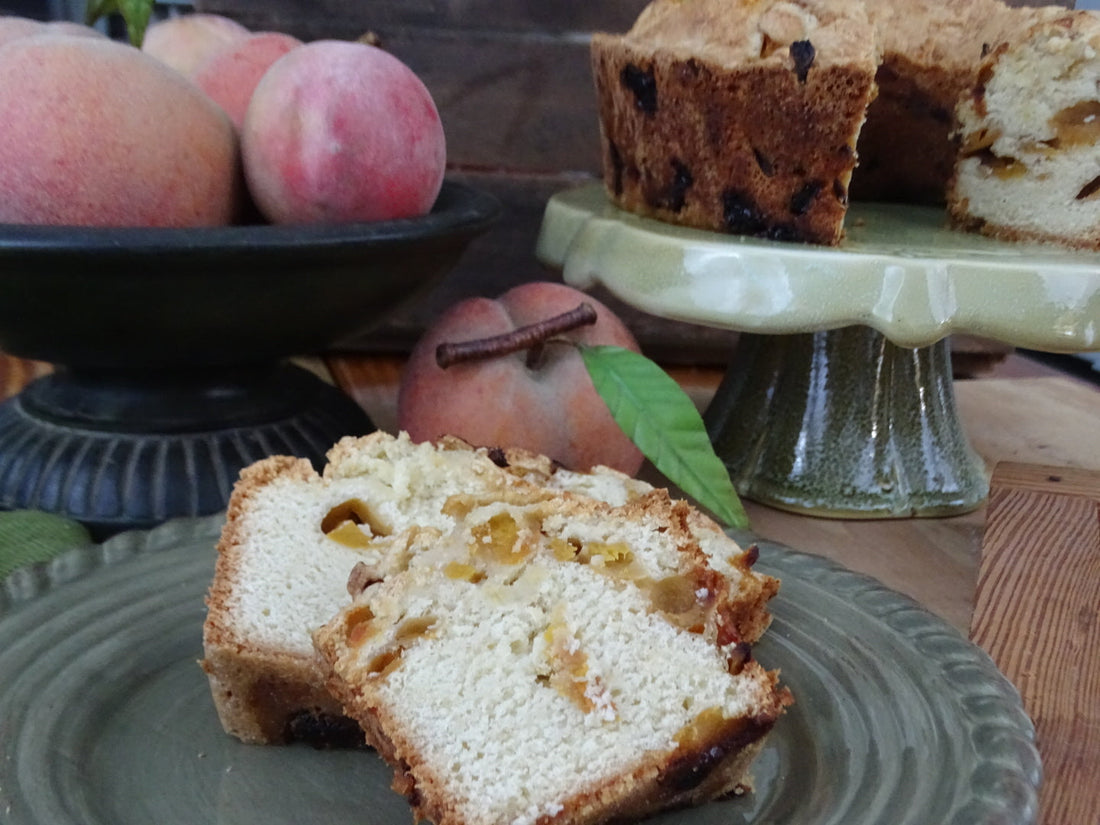 PEACH POUND CAKE

Ingredients:
2 Tablespoons shortening
1 cup butter
2 cups plus 1/4 cup sugar
4 eggs, separated individually
1 teaspoon vanilla
2 3/4 plus 1/4 cup all purpose flour
1 teaspoon baking powder
1/2 teaspoon salt
2 cups coarsely chopped ripe Georgia Peaches from Pearson Farm
Directions:
Preheat over to 350 degrees F.
Grease a 10 inch tube pan. Sprinkle evenly 1/4 cup sugar in the bottom of the pan.
Cream butter and gradually add the remaining 2 cups sugar, beat well.
Add eggs, one at a time, beating well after each addition.
Add vanilla and mix well.
Combine 2 3/4 cups flour, baking powder and salt. Gradually add flour mixture to creamed mixture, beating well.
Dredge peaches with remaining 1/4 cup flour. Fold peaches into batter.
Pour batter into prepared pan and bake at 350 degrees F for one hour and 15 minutes and then remove from pan and cool completely on wire rack.
** We're excited to share that this cake may be made with frozen peaches! Here are a few instructions/ hints for using those peaches you put up last summer:
Defrost the peaches and drain in a colander. Sprinkle with a little fruit fresh. Measure, dredge and fold into batter as you would fresh peaches. Cooking temperature will remain the same but times could vary. Keep close watch on the cake after about one hour in the oven. Sometimes frozen peaches may get dark on the edges of cake. If this happens, turn the over down to 325 degrees F.
Yields 16 servings.
From The Kitchen Of:
Georgia Peach Commission