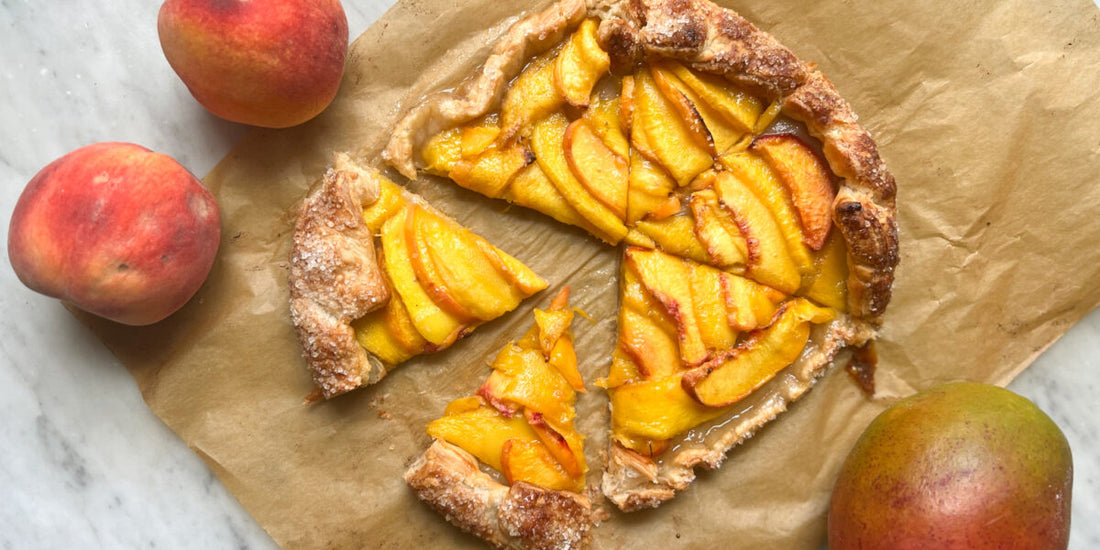 PEACH MANGO PIE
INGREDIENTS
1 sheet of puff pastry
2 fresh Pearson Farm peaches
1 large mango
2 teaspoons turbinado sugar
1 teaspoon crystal sugar
1 teaspoon almond milk
INSTRUCTIONS
Thaw the frozen puff pastry in fridge overnight, or out on the counter under a towel. On parchment roll out the puff pastry to make it just a little thinner.
Cut mango down either side of the pit. Using a sharp edge container, like a cocktail shaker, peel the mango. Slice mango into slices, and set aside.
Slice both peaches in half and remove pit. Flesh side down, slice peaches.
Now it is time to assemble the peach mango pie! In 2 rows, layer the peaches and mangos. I like to have flat side down on one side and flat side upon the other to create a design. You can also just create a circle design as well. Once you have filled the crust with fruit, leaving about an inch or a bit less around the edge, start to fold over and crimp the crust. At this point you can set on a baking sheet pan, or into a shallow baking dish.
Sprinkle the turbinado sugar over the fruit. Now brush the almond milk over the crust. Sprinkle the crust with crystal sugar. You can add a little extra to the fruit. Place the pastry into the freezer for about 15-20 minutes. This is important, or your pastry will not puff up!
While pastry is in freezer, pre-heat oven to 400 degrees F.
Place pastry in oven, and set for 10 minutes. Then turn the pastry around to bake evenly. Set timer for another 10 minutes. Since
ovens vary, at this point, you may need just a few minutes more. It ended up taking 25 minutes in our oven. You want to see bubbling
fruit, and a brown crust.
Remove from oven and allow to cool for at least 20 minutes. Slide onto a cutting board using the parchment to lift it out of the pan.
Slice, and serve warm on its own, or with ice cream.