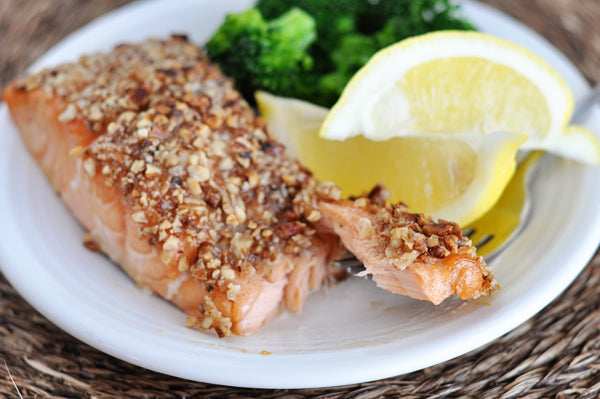 Maple Pecan Crusted Salmon
Salmon with a sweet and savory maple pecan crust is the perfect way to start off you weekend! It goes perfectly with steamed broccoli, green beans or cauliflower and oven roasted potatoes.
Ingredients:
2 to 2 ½ lbs. fresh salmon fillets
2 Tbsp butter
1/3 cup dark amber maple syrup
1 tsp Worcestershire
½ tsp salt
¼ tsp pepper
½ tsp ground mustard
½ cup Pearson pecan pieces or chopped pecans
Extra salt, for the table
Lemon wedges, as a garnish
Directions: Melt the butter in a saucepan over medium-low heat. Add the maple syrup, Worcestershire, ground mustard, salt and pepper. Let the sauce melt together until warm, about 3-4 minutes. Set aside and let cool. Once the marinade has reach room temperature, place salmon in a gallon Ziploc bag and pour marinade over salmon. Seal Ziploc bag and marinate in the refrigerator for 30 minutes to 4 hours. Pour chopped pecans in a dry skillet over medium heat. Toast pecans until they are warm and nutty. Set aside and let cool. Once the pecans have reached room temperature, chop them finely by hand or in a food processor. Preheat the oven to 325 degrees F. Line a baking sheet with foil. Spray a light, even layer of nonstick cooking spray. Once the salmon is finished marinating, place pecans in a flat, shallow dish. Press the top side the salmon fillets into the pecans, and place fillets on baking sheet. Sprinkle the fillets with just a little bit of salt. Bake for 20 minutes or until tender and cooked all the way through. Serve immediately with lemon wedges and fresh veggies!
Photo/recipe courtesy of: Mel's Kitchen Café