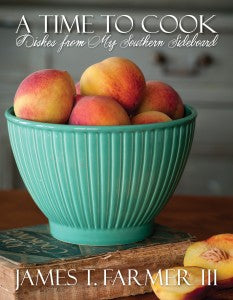 Georgia Caprese Salad Recipe from A Time to Cook
Our friend, James Farmer, is offering a sample recipe from his cookbook,
A Time to Cook
.
It's a peachy, southern twist on a classic caprese salad. Keep this recipe for peach season! And don't forget to
order your copy of James' cookbook
before the end of March!
GEORGIA CAPRESE SALAD, Y'ALL
1 peach
Lemon juice
2 small, thin slice pepper jack cheese
4-6 large basil leaves
Balsamic vinegar
Halve and pit and juicy ripe peach. A splash of lemon juice will help prevent the peach from browning. Place each peach half on a salad plate. Layer on the slices of cheese and basil leaves, and drizzle with balsamic vinegar. Serve as a pre-dinner salad or accompanying side.
Recipe from: "A Time to Cook" by James Farmer