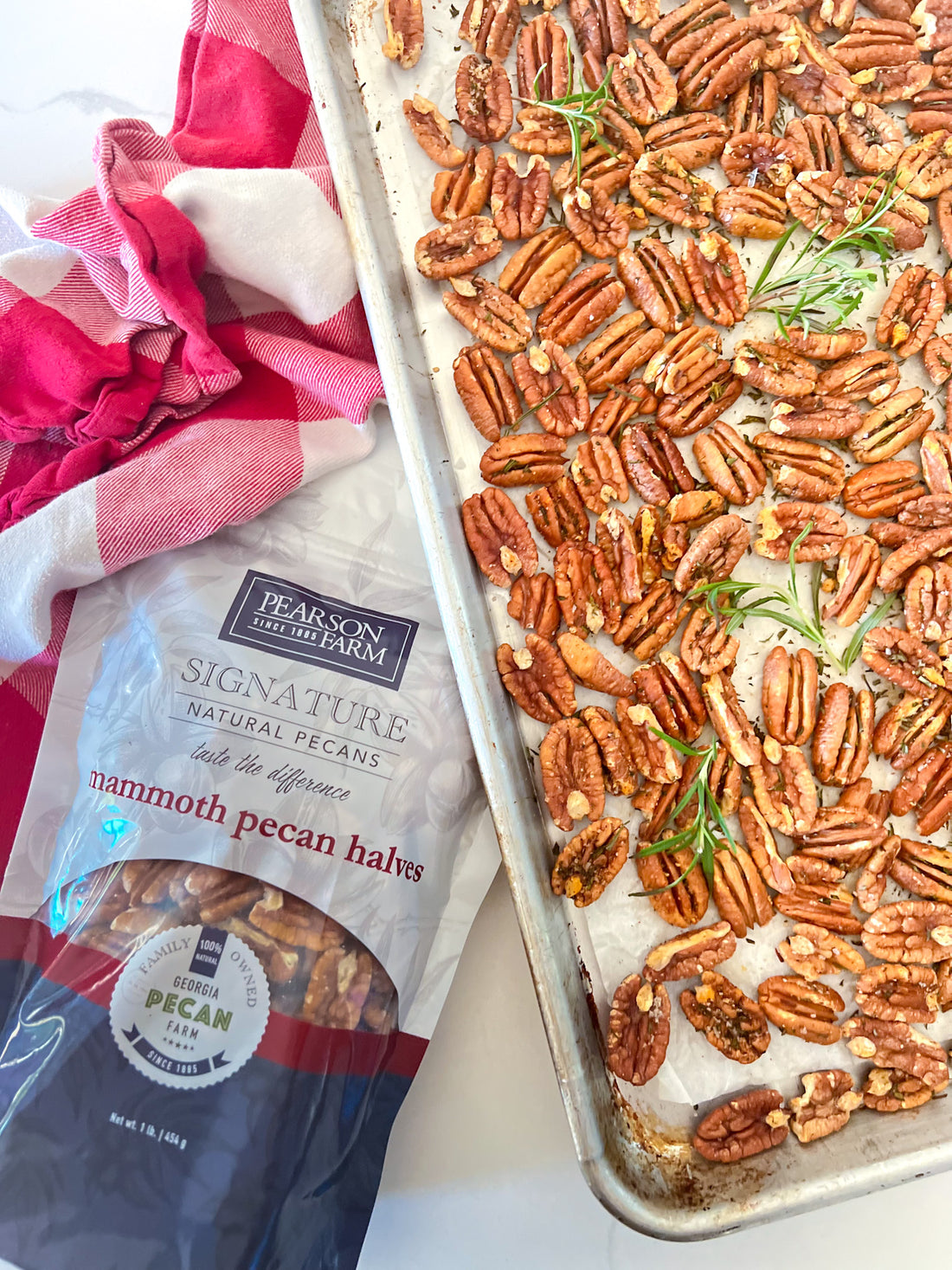 EASY SALTED ROASTED PECANS WITH ROSEMARY
Another easy and delicious recipe from our friends at The Perks of Being Us!
INGREDIENTS
1 pound Pearson Farm Mammoth pecan halves
2 Tablespoons olive oil
2 Tablespoons fresh rosemary, finely chopped
1 Tablespoon fresh rosemary, leaves left whole
1 teaspoon sea salt
12 grinds fresh black pepper
1 teaspoon smoked paprika
1/2 teaspoon cayenne pepper (adjust to taste depending on how spicy you want the pecans)
INSTRUCTIONS
Preheat oven to 325 degrees; if using air fryer, preheat to 300 degrees.  Place pecan halves in bowl. Drizzle olive oil over pecans and toss to coat evenly.  Add salt, pepper and spices. Stir to distribute the seasoning evenly.
Sprinkle the chopped rosemary over the pecans, reserving the remaining rosemary to add after the pecans are roasted.
Line a rimmed baking sheet with parchment paper. Arrange pecans in a single layer on the baking sheet. Place baking sheet in preheated oven and roast for 5 minutes. Check pecans often to make sure that the pecans do not burn.
Remove pecans and parchment paper from the cooking sheet and transfer to a cooling rack. Once the pecans are cool, add the whole rosemary leaves just before serving. After cooling, the roasted pecans may be stored in an airtight container or freezer bag.