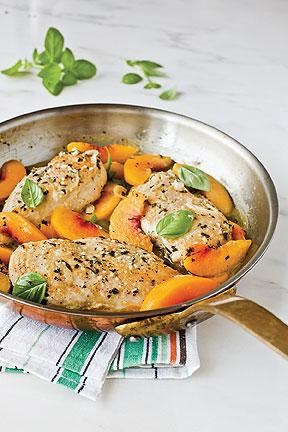 Chef Virginia Willis' Basil-Peach Chicken Breasts
Serves 6
Georgia produces over 130 million pounds of peaches a year. Some states may grow more, including South Carolina and California, but Georgia is deservedly known as "The Peach State," the result of the efforts of a farmer in Marshallville, Georgia, who bred the Elberta peach from the seed of a Chinese cling peach in the late 1800s. I am loyal to Georgia peaches. My high school was located in Marshallville, Georgia—in the middle of the state, with school breaks dictated by peach season, and with many of my classmates being the sons and daughters of Georgia farmers. The red clay and the hot sun create a taste unlike no other.
Bright and slightly sweet, peaches and basil are a great flavor combination. The technique of starting the chicken on the stovetop and finishing in the oven helps prevent dry, overcooked chicken. The flavorful jus is fresh and clean, much lighter than a flour-thickened gravy.
Ingredients
3 boneless, skinless chicken breasts (1½ pounds)
Coarse kosher salt and freshly ground black pepper
1 tablespoon pure olive oil
1 shallot, thinly sliced
1 teaspoon grated fresh ginger
2 garlic cloves, very finely chopped
12 basil leaves, finely chopped, plus more whole leaves for garnish
1 cup homemade chicken stock or reduced-fat, low-sodium chicken broth
4 large peaches, peeled, pitted, and sliced ¼-inch thick (about 2 cups)
Directions
Preheat the oven to 350°F.
Pat the chicken dry on both sides with paper towels. Season the chicken on both sides with salt and pepper. Heat the oil in a large ovenproof nonstick skillet over medium-high heat until shimmering. Add the chicken and cook until browned, about 2 minutes per side. Remove to a plate and set aside.
Decrease the heat. Add the shallot and cook until translucent, about 3 minutes. Add the ginger and garlic to the pan and cook until fragrant, stirring constantly, 45 to 60 seconds. Add the chopped basil, chicken stock, and peaches. Return the chicken to the pan and turn to coat. Transfer to the oven. Bake until the juices run clear when the chicken is pierced with the point of a knife, about 15 minutes. Serve immediately.
Calories 169 Fat 5 g Carbs 6 g Fiber .9 g Protein 24 g
Reprinted with permission from Lighten Up, Y'all by Virginia Willis, copyright (c) 2015. Published by Ten Speed Press, a division of Penguin Random House, Inc. Photography (c) 2015 by Angie Mosier.