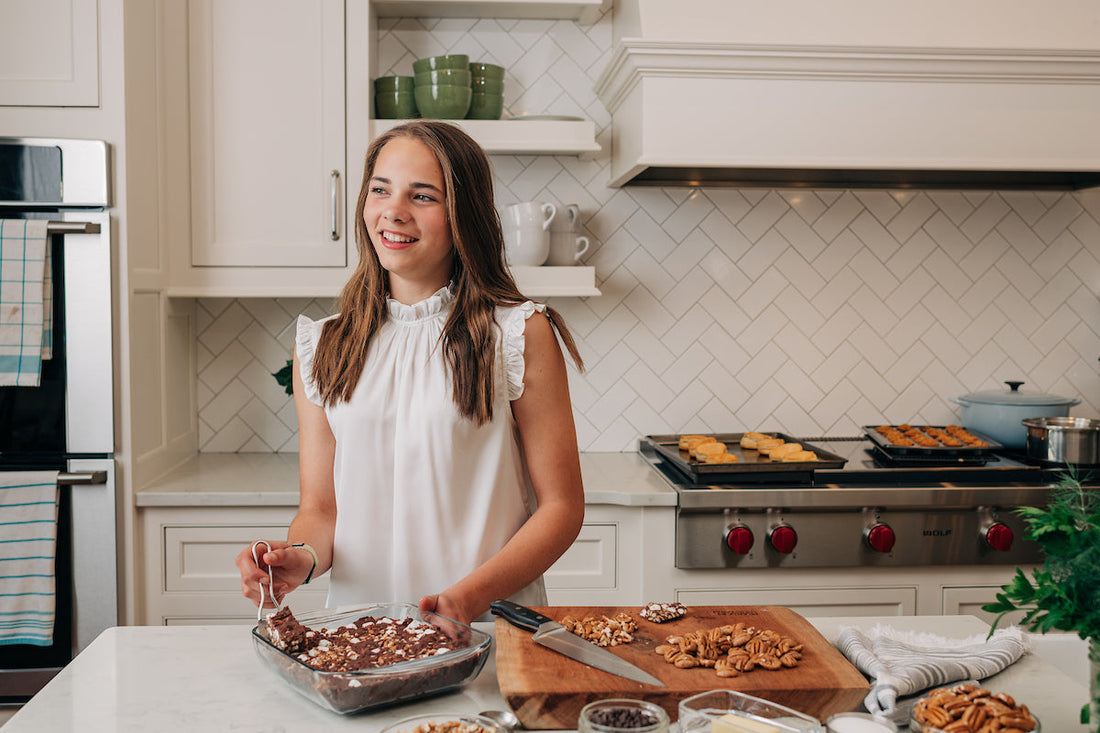 ADELINE'S ROCKY ROAD PECAN FUDGE
INGREDIENTS:
1/2 teaspoon vegetable oil
3 1/2 cups mini marshmallows
2 cups Pearson Farm Signature Pecan Pieces, toasted
2 cups semi sweet chocolate chips
1 (14oz) can sweetened condensed milk
1 teaspoon vanilla extract
DIRECTIONS:
Line an 8-inch square baking pan with aluminum foil, gently press the foil into the corners and let the extra foil hang over the sides. Soak a paper towel with the vegetable oil and use it to rub over the foil. Set aside 1/2 cup of mini marshmallows and 1/2 cup of the pecans.
Pour the chocolate chips and sweetened condensed milk in a medium microwave-safe bowl and microwave on high for 1 minute. Stir with a rubber spatula. If the chips aren't melted, return to the microwave 1 or 2 times for 30 seconds each, stirring after each time, just until the chocolate is melted. Don't let the chocolate get too hot!
Gently stir the vanilla, remaining 3 cups of mini marshmallows, and remaining 1 1/2 cups of pecans into the chocolate mixture. Using a rubber spatula, scrape the chocolate mixture into the prepared baking pan, spreading evenly and smoothing the top.
Sprinkle the fudge with the reserved marshmallows and pecans and gently press them into the surface. Cover the pan with plastic wrap and refrigerate until firm, at least 30 minutes.
Holding the ends of the foil, lift the fudge out of the pan and set on a cutting board. Peel away the foil and cut into 16 squares.
Adapted from The American Girl Baking Cookbook